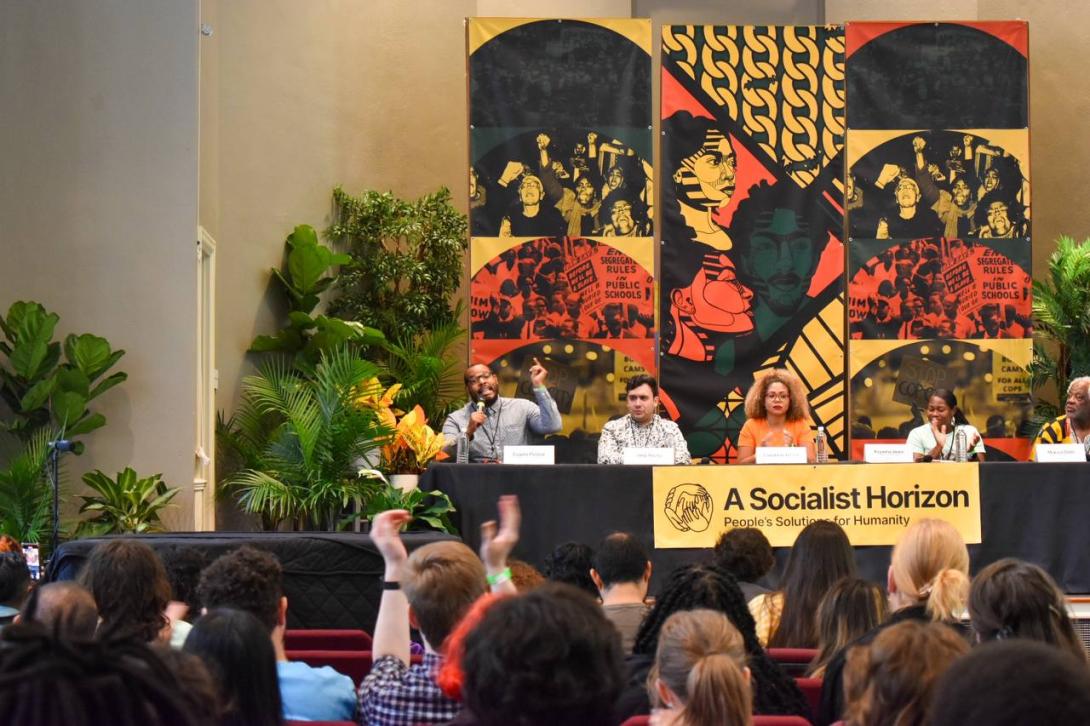 Under the title "A Socialist Horizon: People's Solutions for Humanity," the North America Dilemmas of Humanity Conference took place on September 2, 2023. From the Neighborhood Church in Atlanta, Georgia– a historic city of struggle in the southern United States– the conference was dedicated to constructing real solutions for the struggles of the working class in the country.
More than 300 activists, organizers, and political and community leaders from 25 US states gathered for the conference, organized by the International People's Assembly- North America. It was supported by 40 organizations, including Community Movement Builders, Faith Coalition to Stop Cop City, the Party for Socialism and Liberation, The People's Forum, Unión de Vecinos, and the Malcolm X Grassroots Movement, among others.
Manolo De Los Santos, co-executive director of the People's Forum, opened this Regional Dilemmas of Humanity Conference with the assessment that the current system is in crisis. He declared that this is the world that the socialist movement is confronted with, and it is only the workers who change it. "We built this society. We can destroy this system and build a new one through working-class internationalism."
One important topic discussed at the conference was the necessity of working-class organization. "If we want to win, we have to be organized, but we can't just be organized in an amorphous sense. We have to organize in a very specific way, and history teaches us this. We have to organize a communist party," declared BreakThrough News journalist and Party for Socialism and Liberation member Eugene Puryear.
In the panel titled "Socialism and Democracy," Stop Cop City activist, labor organizer, and rapper Mariah Parker talked about why democracy is not possible under capitalism. "You cannot have a political system without an economic system. And so when we talk about democracy, we have to not only talk about redistributing political power but economic power as well."
An Art Exhibition called "(Re)Turn To Struggle" was also part of the event. The exhibition aimed to honor the lineage of revolutionary working class struggle in North America, examine, explore, and recover the real history of people's struggles from within the belly of the beast, and draw connections to international movements. 
The one-day event was divided into panel sessions, group discussions, and art performances and included important discussions on struggles, strategies, and challenges. The conference had a strong current of optimism for our current moment and concluded with hope and the conviction to #BuildSocialism.
This conference was part of a series of regional Dilemmas of Humanity events taking place worldwide in the lead-up to the International #DilemmasOfHumanity Conference from October 14-18 in Johannesburg, South Africa.
Watch "A Socialist Horizon" Conference panels: