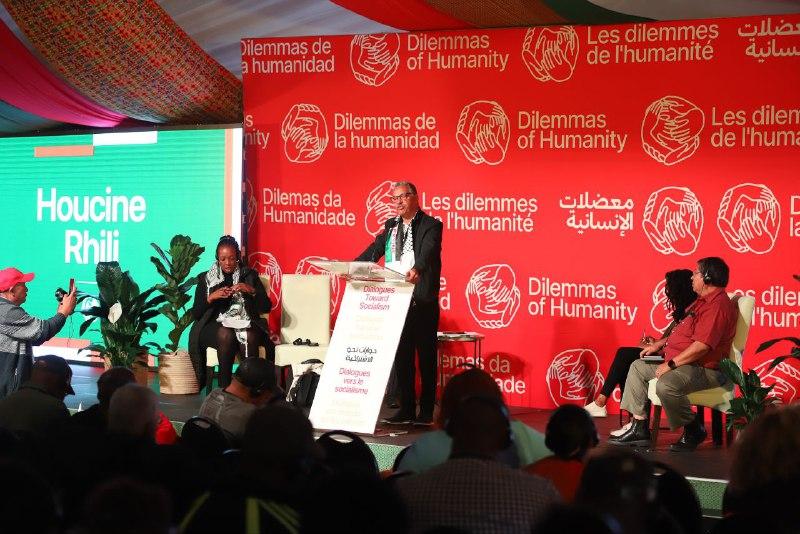 On the third day of the International Dilemmas of Humanity conference, participants discussed how to address the environmental crisis from a socialist perspective and issues of human dignity.
Every year government officials, think tanks, NGOs, and representatives of the "private sector" convene in the Conference of the Parties (COP) to discuss what actions world leaders should take regarding the climate crisis. This illustrious meeting is sponsored by the world's largest transnational companies such as Unilever, Danone, Bayer, Nestlé, and others, companies that are responsible for a large part of the environmental devastation that has brought our world to the brink.
As such, the discussions which take place in such a space, are rarely ever able to point to the real culprit and much less so, demand the changes which are necessary to save life on the planet. The more radical resolutions, fought for, tooth and nail, by those countries most impacted by climate devastation, are rarely respected.
Spaces such as the III International Dilemmas of Humanity Conference, become all the more important in today's context, wherein experts, members of people's movements, and activists from all over the Global South have come together to discuss the primary questions facing humanity, such as the climate crisis. As in the other discussions, the debate on the climate crisis on Day 3 of the conference was focused less on the impacts of the climate change which are today well known, and more on the necessary solutions to save life on the planet. Speakers also debunked the same solutions that are formulated by ruling elites and big business to allegedly address the climate crisis, highlighting that capitalism is incompatible with life.
The speakers on the environmental crisis panel included Theodora Pius of the National Network of Small-Scale Farmers Groups in Tanzania (MVIWATA), Tikender Singh Panwar researcher and political activist from India, Houcine Rhili of the Nomade Association in Tunisia, and Carlos Barrientos of the Committee of Peasant Unity of Guatemala.
The Tanzanian leader spoke about the struggle of the peasantry in Tanzania and across the world, which continue to constitute a significant portion of working people. In Kenya, peasants are 70% of working people and are on the frontlines of the struggle against climate change. "People are trying to defend their rights to use and access land. People are defending the forests, their rights to use water, and seeds. We are defending life on land, for human beings, animals, and everything that exists," Pius said.
She sharply condemned that the solutions proposed by capitalists and corporates to address the environmental crisis are both anti-people and further climate devastation. "The capitalists have created a crisis, and they have come with the solution. GMO is their thing. They are forcing everyone to believe that GMO should be used as a strategy to resolve what the Africans are facing with climate change."
Her rallying cry is to "reclaim the rights to use the commons."
The Indian left scholar Singh Panwar in his talk pointed out that even the world's top scientists are conscious that the current system is leading humanity on a path to destruction, "The IPCC report points out that there has to be a systemic shift." However, he highlighted, "They are not communists…they cannot go beyond this vocabulary."
He emphasized: "we know what this systemic shift means: the end of capitalism and the birth of socialism."
Houcine Rhili, whose country Tunisia in recent years has been suffering from frequent droughts and heat waves, said that the battle of discourse is central to combating climate devastation. For example, the US military is one of the single largest polluters on the planet, more than 140 countries combined, yet the poor countries of the global South, and poor people themselves are often pointed to as those responsible. "We [must] fight and undermine the narrative of the capitalist system and fight against this idea which accuses the poor of being responsible for global warming."
Rhili also pointed out some of the false solutions to the crisis proposed by capitalism such as the green energy alternatives, which extract natural resources from the south to power the north. He declared, "Egypt, Libya, and Tunisia and all countries of sub Saharan Africa will witness huge extraction of resources from their land and even loss of land. The extraction of green hydrogen requires huge quantities of water."
He added, "I can assure you that these transnational companies will use our sea and ocean water and gases in order to provide clear alternative energies for themselves and we will be unable to provide the lowest quantity of water to provide our dignity. There is no dignity without water, water is life."
Ntima Makhetha, of UNITE union in Lesotho, also pointed out the contradictions that occur when the South has to produce green energy for the north, "Our country sold water…but in our country 70% of our people don't have access to water, and right now the country is embarking on a hydrogen deal to export energy to other countries but it can't even feed itself. It is said that clean energy will help with climate change, but what about us the people who are living there, how do we survive?"
Indigenous and peasant revolutionary Carlos Barrientos sentenced that the environmental crisis must not be seen as separate from the survival of humanity, but that the struggle for the survival of both the people of the world and the planet are one in the same, "We have to understand that we are sons and daughters of mother earth and what corresponds to us is to fight for life and for socialism."